Optimal Health Solutions Works with a Number of Specialty Labs to Assist in the Testing Required to Get a Complete Picture of Your Health
---
Learn more about our trusted partners and the type of testing they offer.
ALCAT
ALCAT Food Sensitivity Testing (CellScienceSystems) is a tool for managing conditions linked to inflammation and chronic activation of the immune system. The ALCAT Test measures individual responses to foods and other substances at the cellular level and may reveal the underlying trigger of certain symptoms.
Food and chemical sensitivities have been linked to migraines, aching joints, fatigue, gastrointestinal disorders, and other symptoms related to chronic activation of the immune system.
Modifying the diet based on the ALCAT testing results in a resolution of many of these symptoms and allows the immune system to settle down while tempering the inflammatory cascade associated with chronic health issues.
Who Should Test?
Cellular reactions to foods, chemicals and other substances can be associated with both acute and chronic pathologies.
Association between the innate immune system, inflammation and the development of chronic conditions including:
Gastrointestinal Disorders, e.g. Diarrhea /Constipation, Bloating, IBS, Gastritis, Reflux, Associated Malabsorption (nutritional deficiencies)
Muscular / Skeletal Disorders, e.g. Stiff or Sore Joints, Arthritis, Immune System and other Comorbidities, e.g. Reduced immunity against Infections
Skin Symptoms, e.g. Eczema, Psoriasis, Rashes, Keratosis Pilaris, Urticaria, Acne
Respiratory Disease, e.g. Chronic Cough, Wheezing / Bronchoconstriction, Sinusitis
Neurological Symptoms, e.g. Migraines, Headaches, Memory Problems, Chronic Fatigue, Mood Swings, Depression (neuroendocrine immune system), ADHD, Neuropathy, cognitive impairment
Metabolic / Endocrine Disorders, e.g. Obesity, Diabetes, Metabolic Syndrome, Inability to Lose Weight, Weight Loss, Thyroid Illness and Diseases, Infertility, Irregular Menstruation
CNA Cellular Nutritional Analysis
ReDox Assessment
Advanced Methyl Detox Profile
---
Great Plains Laboratory
The Great Plains Laboratory, Inc. is a world leader in providing diagnostics for metabolic, mitochondrial, and environmental factors in chronic illnesses.
We utilize their services for the following tests:
Comprehensive Stool Analysis
Healing the Gut and Digestive Issues
The Comprehensive Stool Analysis detects the presence of pathogenic microorganisms such as yeast, parasites, and bacteria that contribute to chronic illness and neurological dysfunction. It provides helpful information about prescription and natural products effective against specific strains detected in the sample. The test also evaluates beneficial bacteria levels, intestinal immune function, overall intestinal health, and inflammation markers.
Many chronic disorders come from digestive problems and inadequate nutrient absorption. Proper gastrointestinal function is needed to eliminate toxic substances, pathogenic microbes, and undigested food particles from the body to prevent health problems. Nutrients require a specific internal environment to be properly digested and transported throughout the body.
Abnormal intestinal microorganisms in the GI tract are widely known to cause disease. Research shows a relationship between the GI tract and the neurological, hepatic, and immune systems. For example, excessive yeast produces toxic substances that can pass through the blood-brain barrier and alter neurological functioning causing "brain fog," behavior problems, and learning difficulties.
The Comprehensive Stool Analysis Includes:
Parameters for digestion & absorption
Cultures for bacteria and yeast
Parasite testing
Sensitivity panels
Inflammatory markers
Stool metabolic markers
Infectious pathogens
The Benefits of Comprehensive Stool Analysis:
The amount of beneficial bacteria in the GI tract is determined
Inflammation and immune markers will aid in appropriate treatments
Many different pathogens have the potential to be isolated and identified
The digestive parameters aid in the diagnosis of intestinal dysfunction without invasive procedures
Glyphosate Test
Overview of Health Risks with Exposure
Glyphosate is the world's most widely produced herbicide and is the primary toxic chemical in Roundup™, as well as in many other herbicides. In addition, it is a broad-spectrum herbicide that is used in more than 700 different products from agriculture and forestry to home use.
Glyphosate was introduced in the 1970s to kill weeds by targeting the enzymes that produce the amino acids tyrosine, tryptophan, and phenylalanine. (Of note: these amino acids are the building blocks of some of our neurotransmitters)
The enzymes of many bacteria are also susceptible to inhibition by this chemical, thus altering the gut flora of many animals. Usage of glyphosate has since amplified, after the introduction of genetically modified (GMO) glyphosate-resistant crops that can grow well in the presence of this chemical in soil.
The Great Plains Laboratory, Inc. offers a urine test for glyphosate and we are also now testing water samples.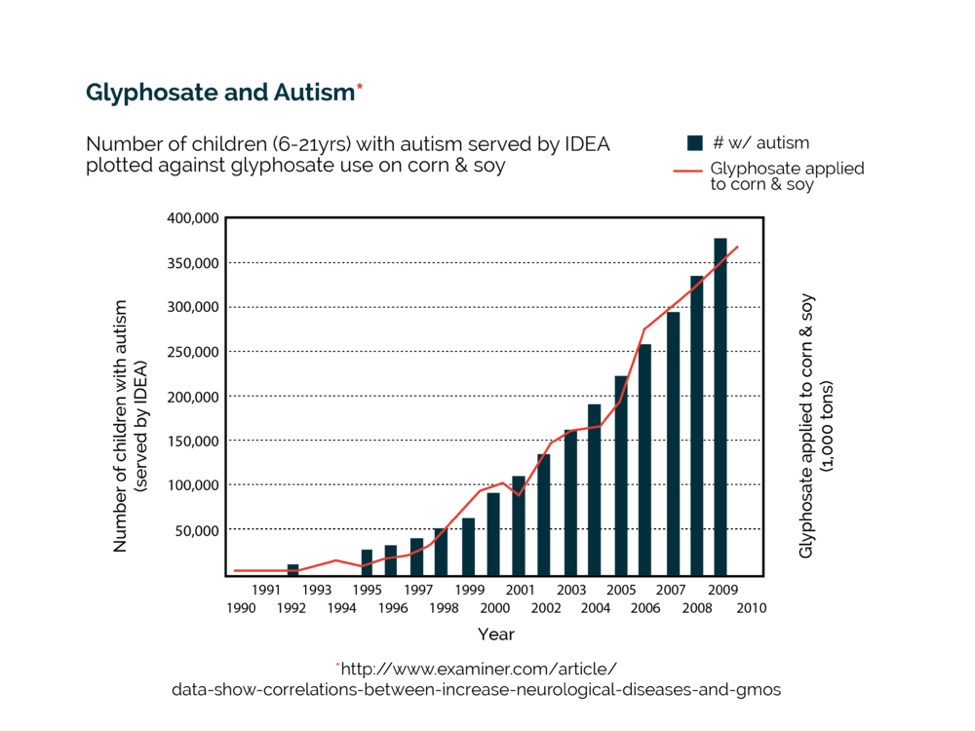 Recent studies have discovered glyphosate exposure to be a cause of many chronic health problems. It can enter the body by direct absorption through the skin, by eating foods treated with glyphosate, or by drinking water contaminated with glyphosate. Exposure triggers endocrine disruption and oxidative stress, causing metabolic alterations, depending on dose and exposure time. The World Health Organization International Agency for Research on Cancer published a summary in March 2015 that classified glyphosate as a probable carcinogen in humans (3). Possible cancers linked to glyphosate exposure include non-Hodgkin lymphoma, renal tubule carcinoma, pancreatic islet-cell adenoma, and skin tumors.
Studies have also indicated that glyphosate disrupts the microbiome in the intestine, causing a decrease in the ratio of beneficial to harmful bacteria (4). The relationship between the microbiome of the intestine and overall human health is still unclear, but current research indicates that disruption of the microbiome could cause diseases such as metabolic disorder, diabetes, depression, autism, cardiovascular disease, and autoimmune disease.
High correlations exist between glyphosate usage and numerous chronic illnesses, including autism, which is shown in the figure on the first page (9). Other disease incidences with high correlations include hypertension, stroke, diabetes , obesity, lipoprotein metabolism disorder , Alzheimer's, senile dementia, Parkinson's, multiple sclerosis, inflammatory bowel disease, intestinal infections, end stage renal disease, acute kidney failure, cancers of the thyroid, liver, bladder, pancreas, kidney, and myeloid leukemia (9). Correlations are not causations, yet they raise concern over the use of a chemical to which all life on earth appears to be exposed.
MycoTOX Profile (Mold Exposure)
Mycotoxins are some of the most prevalent toxins in the environment. Mycotoxins are metabolites produced by fungi like mold, which can infest buildings, vehicles, and foodstuffs. A majority of mycotoxin exposures are through food ingestion or airborne exposure. In the European Union, 20% of all grains harvested have been found to be contaminated with mycotoxins. Unfortunately, mycotoxins are resistant to heat and many processing procedures.
Fungi are able to grow on almost any surface, especially if the environment is warm and wet. Inner wall materials of buildings, wall paper, fiber glass insulation, ceiling tiles, and gypsum support are all good surfaces for fungi to colonize. These fungi then release mycotoxins into the environment causing symptoms of many different chronic diseases. Diseases and symptoms linked to mycotoxin exposure include fever, pneumonia-like symptoms, heart disease, rheumatic disease, asthma, sinusitis, cancer, memory loss, vision loss, chronic fatigue, skin rashes, depression, ADHD, anxiety, and liver damage. With our new MycoTOX Profile, we can identify mycotoxin exposures and make recommendations for detoxification treatments that have been effective.
Organic Acids Test (OAT)
The Organic Acids Test (OAT) offers a comprehensive metabolic snapshot of a patient's overall health with over 70 markers. It provides an accurate evaluation of intestinal yeast and bacteria. Abnormally high levels of these microorganisms can cause or worsen behavior disorders, hyperactivity, movement disorders, fatigue and immune function. Many people with chronic illnesses and neurological disorders often excrete several abnormal organic acids in their urine. The cause of these high levels could include oral antibiotic use, high sugar diets, immune deficiencies, acquired infections, as well as genetic factors.
Our Organic Acids Test also includes markers for vitamin and mineral levels, oxidative stress, neurotransmitter levels, and is the only OAT to include markers for oxalates, which are highly correlated with many chronic illnesses.
If abnormalities are detected using the OAT, treatments can include supplements, such as vitamins and antioxidants, or dietary modification. Upon treatment, patients and practitioners have reported significant improvement such as decreased fatigue, regular bowel function, increased energy and alertness, increased concentration, improved verbal skills, less hyperactivity, and decreased abdominal pain. The OAT is strongly recommended as the initial screening test.
---
SpectraCell Labs
SpectraCell Laboratories, Inc. is a leading clinical laboratory specializing in personalized disease prevention and management solutions.
We utilize their services for the following tests:
LPP+ Lipoprotein Particle Analysis
Intracellular Functional Micronutrient Testing